HOW TO Place Your Advert
You can Place your Advert from the [MY ACCOUNT] page or by following on from Create Advert and just progressing through the Add Advert process.
Select [PLACE & PAY] from:-
MY ACCOUNT Page

OR
Create Advert View Page

You can then place your advert in your Category of service by selecting from the drop down list and the County or Nationwide area in which you provide that service.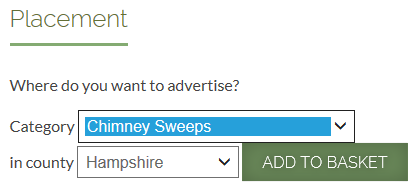 You then select [ADD TO BASKET] and see it calculates the costs in your basket.

Each additional county to be added individually to your basket. This is for ease of editing, price review and checking on availability. It is also easy to delete if you make a mistake by selecting the Trash bin next to the basket price.
If you require more than one county you select them individually, as this helps if you make an error and for ease in seeing your basket price calculation.
Your basket total is calculated as you go which makes it simple to budget your advertisements.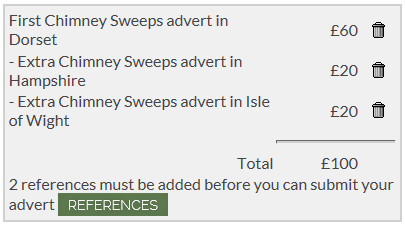 If you select National Advert you will be displayed in all counties.

Any errors are corrected by selecting the trash icon.
No activity on items placed in your basket may result in your basket being emptied after 24 hours
You can see the status of your advert on the [MY ACCOUNT] page eg below one advert placed in basket

The Next Stage is to Pay but (per prompts on pages) 2 full references will be required first.
Live Adverts can be placed in additional counties and when paid for they are updated automatically to the Thatch Directory.